HAVE AN OXYGEN BAR AT YOUR NEXT EVENT!
Perfect addition to Parties, Corporate Events, Trade Shows, and Weddings.
Oxygen Party Bar of Anaheim is the leading Oxygen Party Bar rental business in Anaheim and can provide oxygen party bars for your event at low prices. Whether you have an event for 20 people or 200,000 people, we are the ones to call. Oxygen Party Bar is the original mobile oxygen bar in Anaheim and we have been in business since 2004; We have the largest inventory of oxygen bar equipment in the Southwest.
Why have an Oxygen Bar?
Oxygen Party Bar rentals are where bottled water was 20 years ago. Today every event planner wants to put one in their event. Tomorrow every public building will be required to have an oxygen party bar.
We have the most modern equipment using oxygen concentrators that deliver up to 95% oxygen and 16 different aromas dispensed from 4 different oxygen infusers via disposable nose canulas.
Oxygen Party Bar is located in Anaheim and rents oxygen party bars to organizations that want something different for their event. We work with event planners to provide oxygen party bars from San Diego to Central California and East into Arizona and Nevada. We've provided mobile oxygen party bars for banquets, trade shows, sweet 16 parties, bar/bat mitzvahs, hospitality suites, receptions, new product introductions, and holiday parties. business meetings, and Latin Quinceaneras.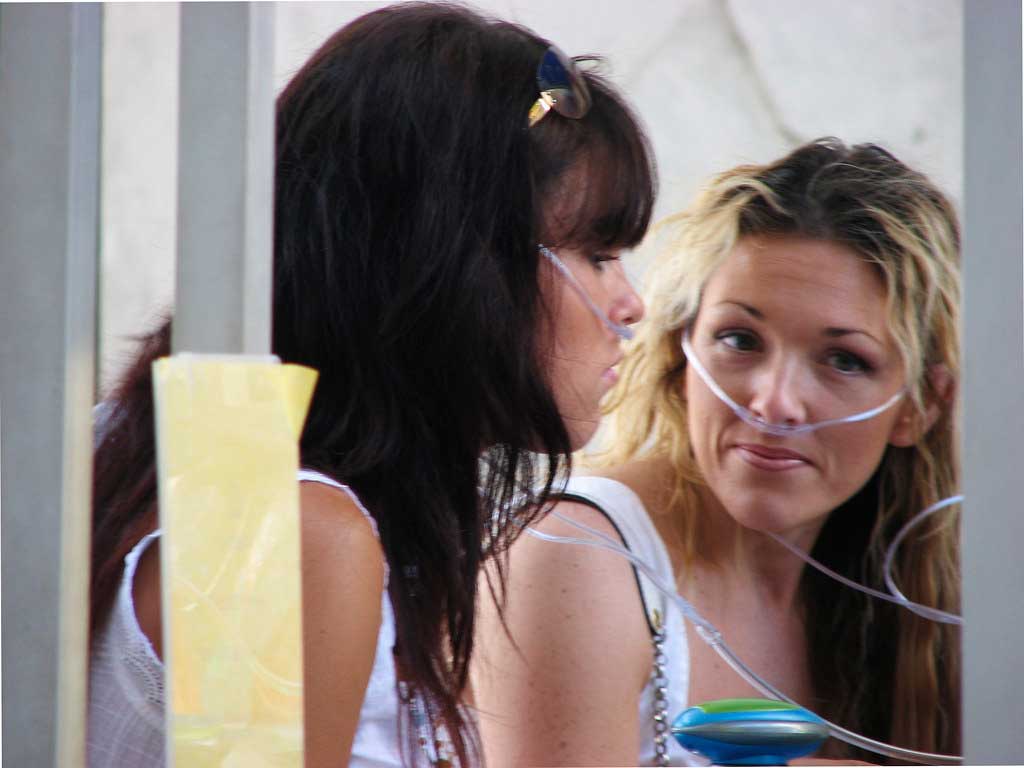 Oxygen Bar for Corporate Events
When you host a group of business people for a two-day event, you feel obligated to entertain them. With an Oxygen Party Bar, you can have them at their best the next morning because an oxygen party bar was available. Treating your guests to oxygen before and during the party will reduce the after-effects of alcohol. Anaheim Hood Cleaning Company had us at their corporate meeting and the employees raved about it. Or, the next morning, those that do not feel well will be rejuvenated with an oxygen session allowing them to be at the top of their game and get the most from your business presentation.
The Oxygen Party Bar session increases the oxygen level in the blood and delivers oxygen to every cell in the body. This increased oxygen level makes one feel good and is called a euphoric high, similar to a runner's high. It is clear-headed and improves the alertness and concentration level of your guests. All effects of alcohol are eliminated with a 5-minute oxygen session.
New Trade Show Idea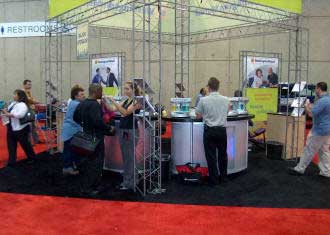 Do you want the most successful booth at your trade show?
With an Oxygen Party Bar in your booth, potential customers are literally tied to your booth for 3 to 5 minutes while getting oxygen.
Treat your customers to a breath of oxygen and they will be re-energized and feel good about you and your product line. Oxygen can provide a euphoric feeling when breathing higher concentrations of oxygen.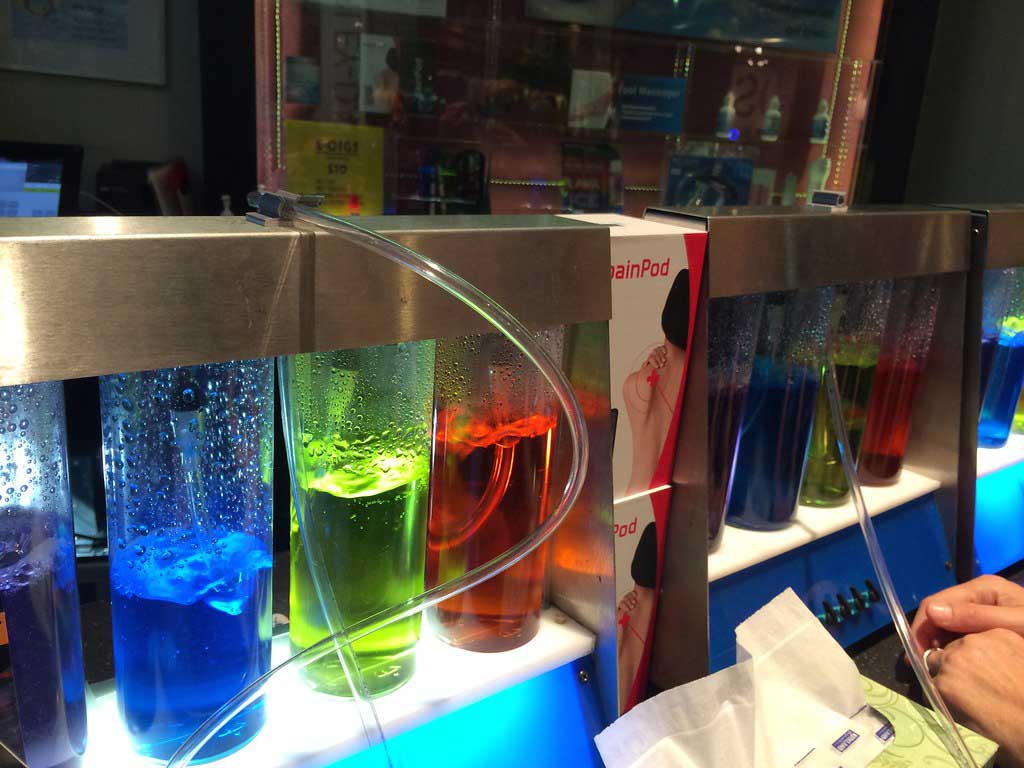 BENEFITS
Your booth will attract larger crowds with an Oxygen Party Bar
You will have more quality time with prospective customers.
Your sales reps will have extra energy to make your show a big hit.
Your customers will be a captive audience while at the oxygen bar
Your bottom line will amaze you.
Your booth will be more effective at increasing business.
Oxygen Party Bars are a green business.
When a business prospect is getting oxygen, they are connected to an oxygen line and are literally tied to your booth. You have 3 to 5 minutes to develop a relationship with your guest and introduce your product. This is the best sales trick you can buy for a trade show.
How an Oxygen Party Bar Works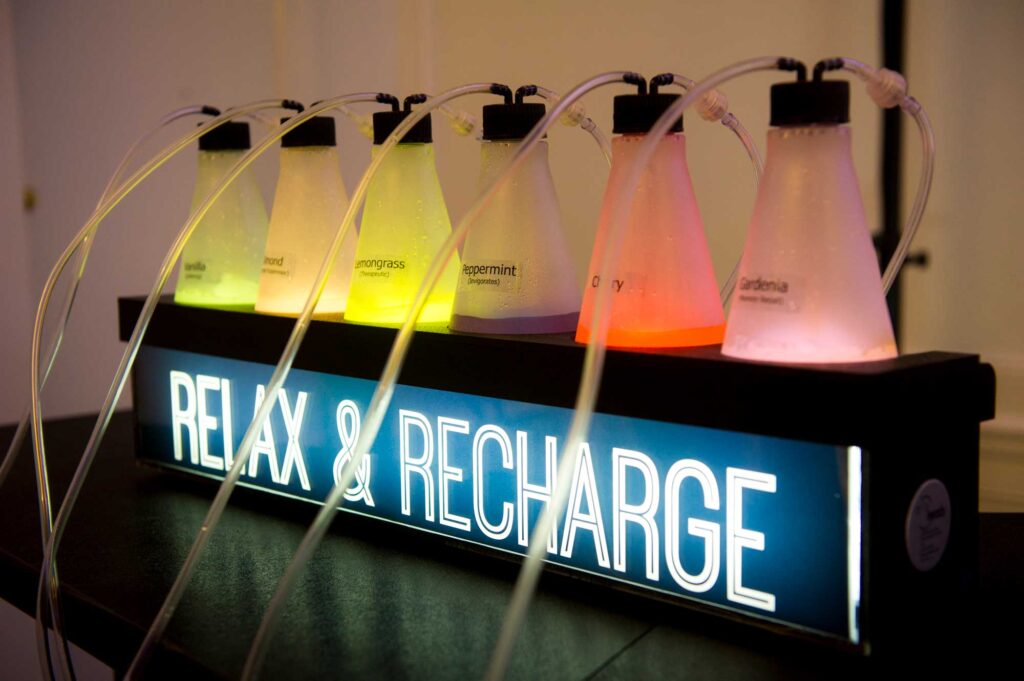 We provide you with a fully staffed Oxygen Party Bar for your event. When you hire Oxygen Party Bar rental, you get a system-certified oxygen engineer to deliver and set up the bar prior to your party. During the event, the bar is staffed and operates as an open oxygen bar for your guests. All supplies are included in the oxygen bar rental. After your party, they immediately pack up and remove all oxygen party bar rental equipment before they leave. All you need to supply is a standard 15 amp, 120 volts, electrical plug, and ground floor/wheelchair access where the oxygen bar rental enters.
Hey Event Planners, This Info is for You…
Event Planners are our bread and butter – we do everything to make your event the number one event on our calendar. Call today and we will reserve your date in advance with no obligation. Once you get our quote and list of services, you can confer with your client and then make your decision to book an Oxygen Party Bar.
(562) 594-8265 Office
(562) 252-6004 Event Cell
Oxygen Party Bar is the leading mobile Oxygen Party Bar firm in the Southwest. Located in Anaheim, Orange County, our service area reaches from San Diego to San Francisco and as far East as Las Vegas and Arizona. We have 3 oxygen bars with equipment for 5 and can service up to 5000 people in an evening. If you have a large event, we are the only firm that can meet your needs.
Oxygen Party Bar is a family-run business and you can expect Herb and Cindy to personally manage your event to make sure there are no problems. Your successful event makes our business successful. We guarantee our personal attention to your event.